We cater prepared to order meals, crepes / pancakes. Covid-19, distanced catering for events, parties, weddings in London. We are catering the best French food for those special moments when everyone comes together to talk, laugh, eat and drink. Due to current lock-down, we can serve our regular pancakes both on sharing platters and individual plates or bags with our Every Crepe Is Prepared to Order Policy (EC-POP) in your venue.
Our French crepes catering service can be a main course with a tailored menu or can be a perfect addition to a drinks reception, weddings reception or meeting. Our catering enable guests to mingle and network freely, creating a semi-formal and helps you to break the ice in the atmosphere at your event.
We set up an amazing crêpe bar in your venue. Our professional private chefs cater indulging French crepes for your events and private parties in London.
INDULGING FRENCH FOOD CATERING – SWEET, SAVOURY AND GLUTEN FREE PANCAKES
What you desire, we deliver better. Our trained private chefs are ready to cater fresh crêpes, galettes, canapés ideal for breakfast, brunch, lunch, dinner. We don't like low-quality pancake batters, we like them to produce the best one for; whether you like crispy crepes, moist pancakes or fluffy pancakes.
EVERY CREPE IS PREPARED TO ORDER POLICY (EC-POP) Every Crepe is made by hand according to traditional French cooking techniques in front of your guests.
LET US FILL YOUR FRENCH PANCAKES WITH YOUR FAVOURITE TOPPINGS
OUR SWEET TOPPINGS
Nutella | Fresh Strawberries | Caramelised Apples | Caramelised | Belgian White Chocolate Buttons | Vanilla Ice Cream | Homemade Salted Caramel | Homemade Chocolate Sauce | Bananas | Chantilly Cream | Belgian Milk Chocolate Buttons | Almonds | Coconut | Apple Mash | Mixed Nuts | Maple Syrup | Walnuts | Butter | Jam (Apricot Jam, Strawberry Jam, Raspberry Jam, Blueberry Jam) | Lemon Juice | Sugar | Honey | Rum / Grand Marnier / Calvados /Cointreau/ Bailey's
OUR SAVOURY TOPPINGS
Happy Eggs | British Ham | Turkey Ham | Smoked Salmon | Organic Sausage | Blue Cheese Camembert | Cheddar Cheese | Swiss Emmental Cheese | Goat's Cheese | Mozzarella | Fresh Cream | Feta Cheese | Fresh Vine Tomato | Mushrooms | Spinach | Onion Chutney | Garlic | Chive | Potatoes | Walnuts | Green Salad | Rocket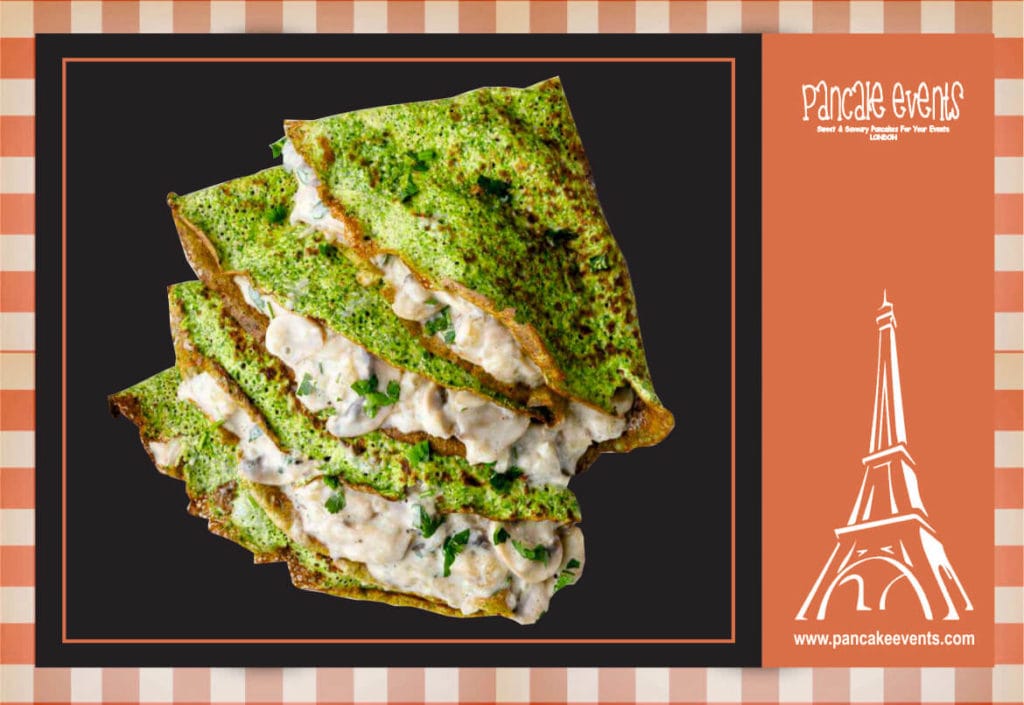 Please see our sweet and savoury pancake menus at www.pancakeevents.com
SOCIAL DISTANCING MENU – AGAINTS COVID-19 TOGETHER
Individual set pancake menus for socially distant breakfasts, lunches, dinners.Our social distancing menu includes most of the toppings listed on our menu. We are still serving our regular pancakes both on sharing platters and individual plates or bags. Alternatively, we come to your venue, we set up and we bake and deliver your orders and we leave.
Due to Covid-19, we may be serving a limited number of pancakes to help the smaller cooking teams maintain social distancing. (Approximately 150-200 pancakes.)
Please see our sweet and savoury pancake menus at www.pancakeevents.com
OUR STANDARD FRENCH PANCAKE CATERING PACKAGE INCLUDES:
Delicious homemade crêpes and galettes. (unlimited)
Prepared to order, for 2 or 3 hours in front of your guests.
Make your own fresh crepe with multiple options (unlimited sweet & savoury toppings)
Friendly and professional private chefs in uniforms are highly accomplished to impress your guests.
Cones, plates, cutlery & napkins.
OUR CREATIVE, DELICIOUS PANCAKE CATERING SERVICE WILL NOT DISAPPOINT!
Let us take the opportunity to serve the best crepes / pancakes at your event and be a guest at your own party.
PANCAKE EVENTS London
Call Us now: +44(0)7423121061
Send an Email: hello@pancakeevents.com
Visit our website: www.pancakeevents.com
We need at least 1-week notice, if we are available, we may accept last minute bookings.
AGAINTS COVID-19 TOGETHER
Even for your wedding or wedding reception. The best memories in London are made with just Pancake Events. We cater indulging crepes / pancakes (French crepes, fluffy pancakes, pancake ingredients, American pancakes, Nutella pancakes and even protein pancakes) for your events and parties in London, for those special moments when everyone comes together to talk, laugh, eating the best food and drinking…